Step One: Apply for a GS1 Company Prefix
The first, and most important, step in obtaining a UPC bar code for your product is to apply for membership and receive a GS1 Company prefix from GS1. Your company prefix is a unique string of digits assigned to your company, identifying you as the manufacturer throughout the entire product supply-chain.
The number of digits in a Company Prefix can vary between 6 – 10 characters, depending on the number of products a manufacturer needs to identify. A small company, who only needs to identify a single product, would receive a 10-digit number. The membership fee for GS1 is primarily based on the number of products which require identification.
BIG NEWS – As of October 2013, GS1 US dramatically reduced their pricing for small companies and the starting fee is $250 for 10 numbers.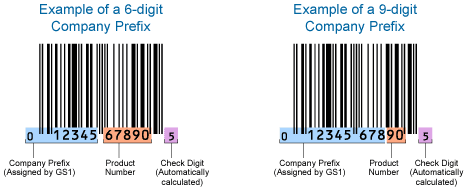 Please be advised that there are third-party companies on the internet who offer to sell single UPC bar codes. We strongly encourage you to research the limitations of exactly what they're offering, and how they match with your business goals. Most of the main retailers will not accept their numbers and there are many online websites preying on unsuspecting new companies. Be wary of numbering organizations with names like Barcode Talk, EZ Barcodes, Speedy barcodes, etc.  Proper product identification is important.  Please call us at 800-662-0701 x240 for assistance.
Comment about GS1 Membership and their Application Process
The GS1 US online application can be very challenging for some, since there are many acronyms and references which might not be familiar to many new companies. In addition, the application does not adequately convey all the benefits provided by GS1 membership to help justify the costs:
Continued use of a Company Prefix
Data Driver Tool – GS1 US provides tool utility to manage/coordinate items. It is somewhat cumbersome and time consuming. Please contact us for assistance on creating barcodes.  Only members who pay their on-going fee can access Data Driver information, so we recommend companies manage their own numbers.
Automatic listing of Company Prefix in the GS1 Membership directory, a business resource provided to retailers and distributors.
Free access to the latest bar coding and electronic commerce standards and guidelines through the online GS1 Solutions Center® to help you conduct business more efficiently and productively.
At the end of this simple tutorial you will be provided GS1 US's new pricing structure and contact information.