UPC Codes
Correct product identification is necessary to sell through traditional retailers and online marketplaces, such as Amazon, Walmart, Kroger, and Ebay. UPC barcodes (aka UPC Codes) are standardized global identifiers, which enable products to be sold, reordered and tracked through supply chains. Accurate product identification starts with the UPC barcode since it is the key to which everything is based upon.
As the authority on UPC implementation and global barcode provider, we are contacted daily with inquiries. Here are a few of the most basic questions about UPC codes and barcodes:
What are UPC Codes?
By definition UPC stands for "Universal Product Code", so the term UPC Code is incorrectly redundant. The term "UPC Code" is commonly used to describe the UPC Barcode symbol, A "UPC Code" is essentially a barcode symbol encoding a 12-digit number called a GTIN-12. As described below, the GTIN-12 is essentially the UPC data derived primarily from a UPC Company Prefix and Item Reference Numbers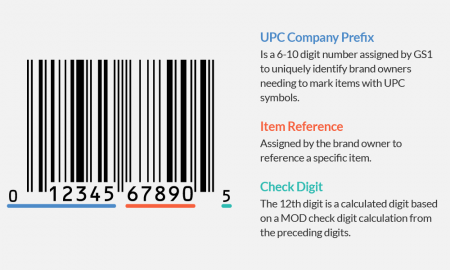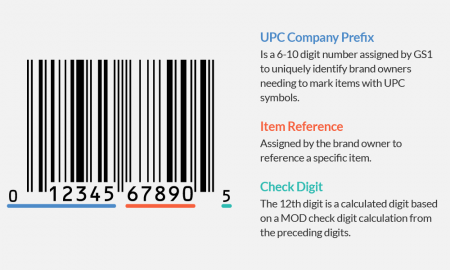 What is a GTIN and what is a GTIN-12?
GTIN describes a family of GS1 (EAN.UCC) global data structures that employ 14 digits and can be encoded into various types of data carriers. Currently, GTIN is used exclusively within bar codes, but it is also used in other data carriers such as radio frequency identification (RFID). The GTIN is only a term and does not impact any existing standards, nor does it place any additional requirements on scanning hardware. For North American companies, the UPC is an existing form of the GTIN. Please visit www.gtin.info for a detailed explanation.
The family of data structures (not symbologies) comprising GTIN include:
GTIN-12 (UPC-A): this is a 12-digit number used primarily in North America
GTIN-8 (EAN/UCC-8): this is an 8-digit number used predominately outside of North America
GTIN-13 (EAN/UCC-13): this is a 13-digit number used predominately outside of North America
GTIN-14 (EAN/UCC-14): this is a 14-digit number used to identify trade items at various packaging levels
What is a Barcode?
A barcode is a graphic symbol used to convey data. Typically the characters in barcode symbols consist of bar/space patterns. The most common linear barcode is the UPC barcode (aka UPC-A). The barcode image above is an example. Please note that there are numerous other types of barcode languages. Just as English and French use the Roman character set (A, B, C, etc), the various barcode languages use bar/space patterns to convey data. The UPC-A barcode symbol contains 12 numeric digits.
What is a UPC Company Prefix?
The basis of the GTIN identification system works of unique company identifiers assigned to each company. GS1 global is a standards organization that oversees the numbering and guidelines for product identification. There are local GS1 offices in over 104 countries whose primary role is to license GS1 Company Prefixes to companies within their country. In the US, GS1 US is the local office. The uniqueness of brand-specific GS1 Company Prefix allows products to be accepted and recognized across the globe. Each country establishes its own pricing rules for licensing GS1 Prefixes, which are normally based on the total number of products a company needs to identify.
Retailers and marketplaces mandate that their suppliers have a UPC Company Prefix licensed to their brand. Since correct and unique product identification is critical to retail supply chains, major retailers and online marketplaces will not accept UPC barcodes without correctly licensed prefixes. In other words, you cannot use a reseller or another company's UPCs to identify your products.
How Many UPC Codes do I Need for my Products?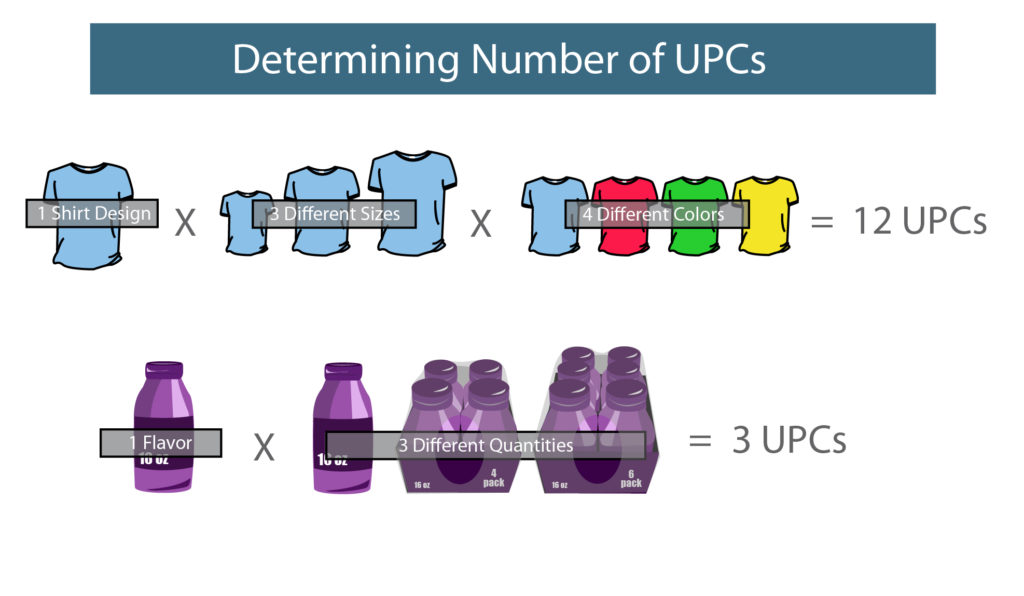 Each individual product that you are planning on selling will need its own unique UPC Code. Each variant of product will require a unique UPC so products of different sizes and colors will each be uniquely represented with an individual UPC.
What is the difference between UPC and EAN barcodes?
As stated above, UPC are "Universal Product Codes" are acceptable around the globe. EAN stands for European Article Number and was the identifier commonly used internationally. Before 2005, manufacturers were challenged because the US used UPC and 13-digit EAN barcodes were used internationally. The EAN format is essentially identical to the UPC but contains a leading "0" to make the number of digits 13. Since the UPC was only 12-digits, it normally did not present problems to overseas POS systems. However, the 13-digit EANs could not be read by US stores. All of the EAN country organizations and the UCC (Uniform Code Council) came together to form GS1. One of the first initiatives was to establish the 2005 Sunrise Date which educated US companies on the necessity to enable their systems to read 14-digits (GTINs).
Today's scanners can now read EAN and UPC barcodes so there is never a reason to put both types on a product. US companies should only use the UPC barcode.
How To Companies Obtain UPC Codes?
As the US Barcode Authority www.barcode-us.com, we produce over 2,000,000 barcode files every year and we are the ONLY source to obtain precise UPC bar codes (.eps) and personal support. The GS1 Barcode Service helps companies with every step. In addition to application processing, personal assistance with GTIN assignments and product data uploads, high resolution digital barcodes (.eps) are included.

| Items | UPC License | GTIN.cloud/Support | Total Fee | Included Barcodes | |
| --- | --- | --- | --- | --- | --- |
| 1 -10 | $250 | $150 | $400 | 10 files | SELECT |
| 1 – 100 | $750 | $250 | $1,000 | 100 files | SELECT |
| 1 – 1,000 | $2,500 | $1,000 | $3,500 | $1,000 credit | SELECT |
| 1 – 10,000 | $6,500 | $2,000 | $8,500 | $1,500 credit | SELECT |
| 1 – 100,000 | $10,500 | $2,500 | $13,000 | $2,000 credit | SELECT |
CALL (800)662-0701 X250 or use CHAT for assistance
A GS1 UPC Barcode as one which correctly contains a GS1 (UPC) Company Prefix. There is a tremendous amount of incorrect information advertised online for cheap UPC codes, and companies really need to understand the severity of the problems which may occur if they are enticed by cheap alternatives. They need to license a UPC Company Prefix associated to their company. The size of the UPC (GS1) Company Prefix they license is dependent on the number of items they need to identify. Please visit this educational page to learn more about UPC and how some companies provide resold UPCs.