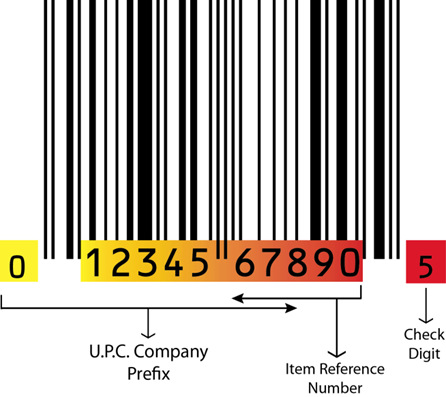 This informational tutorial is provided Bar Code Graphics, the US authority on barcode creation and UPC implementation. Retailers and e-commerce marketplaces (i.e., such Amazon) require their suppliers to identify each their products with a GTIN (Global Trade Identification Number).In the United States, a GTIN is commonly referred to as a UPC (Universal Product Code). A UPC barcode is the graphic representation of the 12-digit UPC. Obtaining UPC barcodes for your products is an easy four-step process:
Step One: Apply for a U.P.C. Company Prefix or GTINs
Step Two: Assign A Unique Product Number To Each Product.
Step Three: Select on how your product will display barcodes.
Step Four: Obtain precise .eps UPC barcodes for each item.
Whereas Bar Code Graphics provides the digital .eps barcode files and GTIN barcode support, GS1 is the global standards agency that administers and primarily only licenses memberships for GTINs and Company Prefixes. The standards organization does not provide GTIN support or actual barcodes. Consequently, at the end of this simple tutorial, you will be directed to starting page for obtaining UPCs and barcodes (.eps).
With your company's success on the line, it is important to properly identify your products. UPC barcode errors can be quite costly if not correctly implemented. Please contact us at 800.662.0701 Ext. 250 or chat with us using the button below.