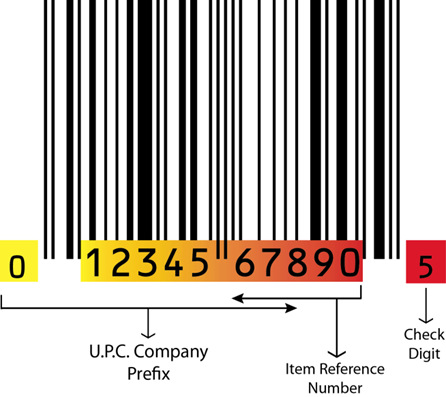 As the US barcode authority, our office receives hundreds of calls and emails from businesses that are unsure how to obtain UPCs (GTINs) and generate UPC barcodes. This tutorial website will help you understand the significance of a brand-licensed U.P.C. Company Prefix and how to create UPC barcodes.
Obtaining and implementing UPC barcodes is an easy five-step process:
Step 1: Estimate the number of barcodes required by your company
Step 2::Apply to establish an account and license a U.P.C Company Prefix /GTINs
Step 3: Utilize your GTIN.cloud to assign unique product numbers
Step 4: Obtain precise digital .eps barcode files for each item directly from GTIN.cloud
Step 5: GS1 Barcode Consultants validate GTIN assignments and UPC product data
At the end of this overview tutorial, you will be directed to the necessary information enabling you to obtain UPC barcodes correctly licensed to your company.
With your company's success on the line, it is important to properly identify your products. UPC barcode errors can be quite costly if not correctly implemented. Bar Code Graphics is the US authority on UPC implementation and barcode creation. The GS1 global standards organization solely licenses prefixes/GTINs and provides optional educational classes. The GS1 Barcode Service includes precise digital barcode files (.eps) and an assigned certified consultant to assist with every step. Please contact us at 800.662.0701 Ext. 250 or chat with us using the button below.