Step 3: Assign Individual Product Numbers
Upon successfully licensing your company's own prefix, you can assign unique product numbers to each of your items. Since UPC Company Prefixes come in varying lengths, the number of product numbers that can be assigned will vary. It is very important that you assign product numbers carefully since UPC (GTINs) cannot be reused after being published. Most companies rely on Bar Code Graphics consultants to assist in assigning individual product numbers to avoid future problems.
A unique product number is required for each unique item you plan to sell. For example, let's say you're selling t-shirts in two different styles – orange and blue. Your blue small, medium, and large t-shirts would each have their own unique product numbers, while your orange small, medium, and large t-shirts would also have their own different unique product numbers.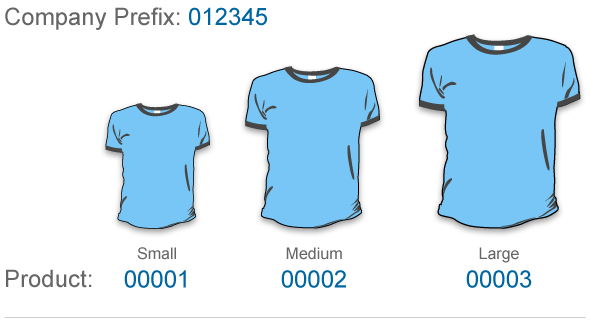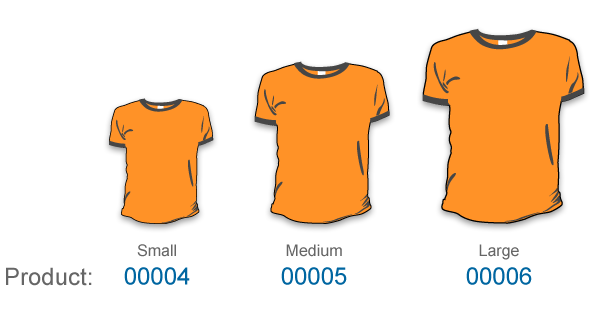 | Product Style | Product Number | Full UPC (GTIN-12) Number |
| --- | --- | --- |
| Blue Shirt – Small | 00001 | 01234500001-0 |
| Blue Shirt – Medium | 00002 | 01234500002-7 |
| Blue Shirt – Large | 00003 | 01234500003-4 |
| Orange Shirt – Small | 00004 | 01234500004-1 |
| Orange Shirt – Medium | 00005 | 01234500005-8 |
| Orange Shirt – Large | 00006 | 01234500006-5 |
One way in which we commonly instruct clients to think about how they assign UPC product numbers, is to imagine HOW they would like their customers to order products from them. At the end of this simple tutorial, you will be provided with information on to obtain UPC barcodes for your products and support options. Click on the link below to continue.